This great article about a little girl and her rescue Eventer from The Chronicle of the Horse was posted last week and we thought it was a wonderful Dark Horse story. We wanted to share it! If you like their stories you can sign up for the email list to receive highlights.
Jan 20, 2021
When Riley Jones first paired up with Señor Santana, she knew he would teach her a lot. But what exactly she was going to learn was yet to be determined.
A petite 7-year-old, Jones had outgrown the capabilities of her first pony and was looking for her next mount. "Santana" was a green 14-hand pony who'd been rescued from near-starvation.
Six years later, they've formed a formidable partnership, rarely finishing outside of the top four at the 14 events they contested in 2020, including three wins, and earning the U.S. Eventing Association's Pony of the Year award.
"The amount of times he has saved me, I can't count on 10 million hands," said Jones, 13. "We've kind of grown together. I can think something, and he would do it. We just know each other really well."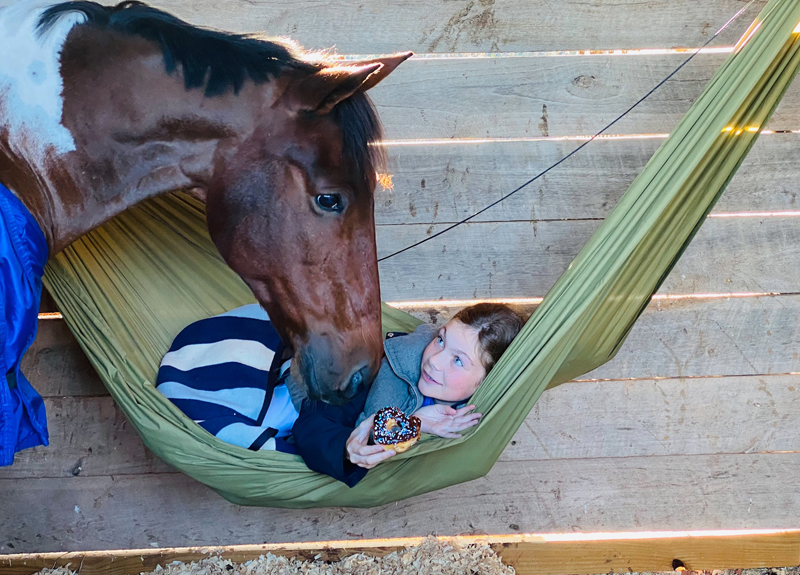 Jones and her mother, Krista Jones, bought "Santana" from his previous owners, who'd adopted him from a rescue where they volunteered. The now 16-year-old gelding had been found with 37 other horses, four of which were deceased, in Gallatin, Tennessee.
"They were eating trash because there was no grass, and they only had nine acres to forage around," said Riley. "Somebody happened to come by the field when they were on a trail ride, and they reported it, and they came and rescued them."
He was still a stallion and unstarted under saddle when he was adopted, but Santana proved kind and willing.
Riley spent the beginning of their partnership learning to ride Santana without a lot of outside assistance or training. "When you're learning together, not being taught, you don't progress as fast," said Riley. "I've only been jumping him for three years because the first three years was us trying to figure everything out and me learning how to be good enough to jump."
Riley remembered a pivotal hunter/jumper show experience that led to a change in discipline.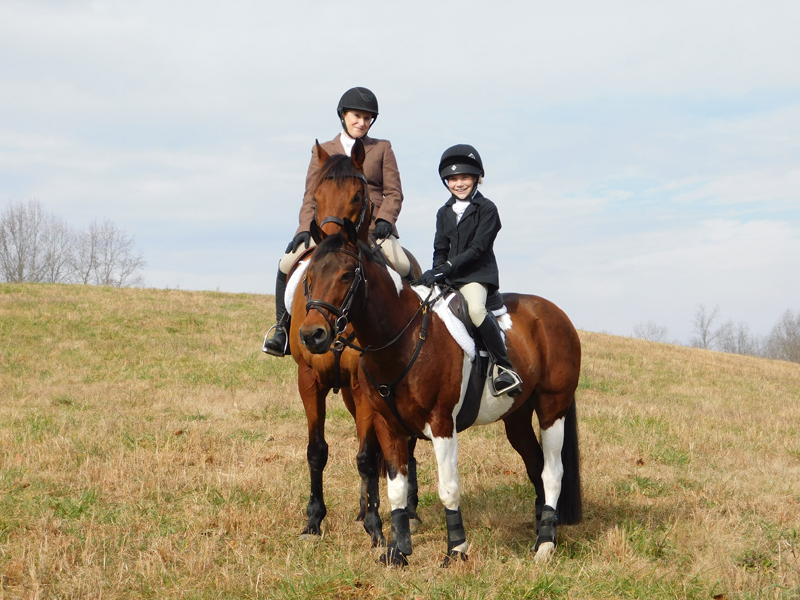 "He was gate sour and was trying to run out the gate and refusing all the jumps," she said. "He didn't want to do it. Annie [Bright Proffitt of Everbright Equestrian in College Grove, Tennessee,] and her group of girls were cheering me on because I was in there crying because I couldn't get him over. We thought, 'Wow, they're really nice. Maybe we can go take a lesson with them at some point.' "
While Proffitt has a hunter/jumper background, she's now focused on eventing, and so Riley began learning the new sport. It was a "slow start" teaching Santana the cross-country elements and dressage, and Proffitt made sure the pair was proficient on the flat before going to their first event.
Krista had evented in the past, and was she happy to have Riley join an eventing barn. "There's just camaraderie, and people really encourage each other in the eventing world," she said. "It was just so refreshing because Riley was tiny. She's extremely petite. When we bought Santana she was 7 1/2 and very tiny. Santana didn't know anything, and we were still trying to teach him a lot. He just didn't know."
Now Santana is "point and shoot" and understands how to take care of his charge. "When Riley says he's saved her a million times—if he feels like she's not balanced coming up to a fence, he'll stop," said Krista. "Because she was so tiny and so green, there were times where it wasn't his fault; it was actually Riley's fault because she wasn't positioned correctly, and he said, 'No. My person is not sitting in the right spot, so I'm going to stop because it's unsafe.' "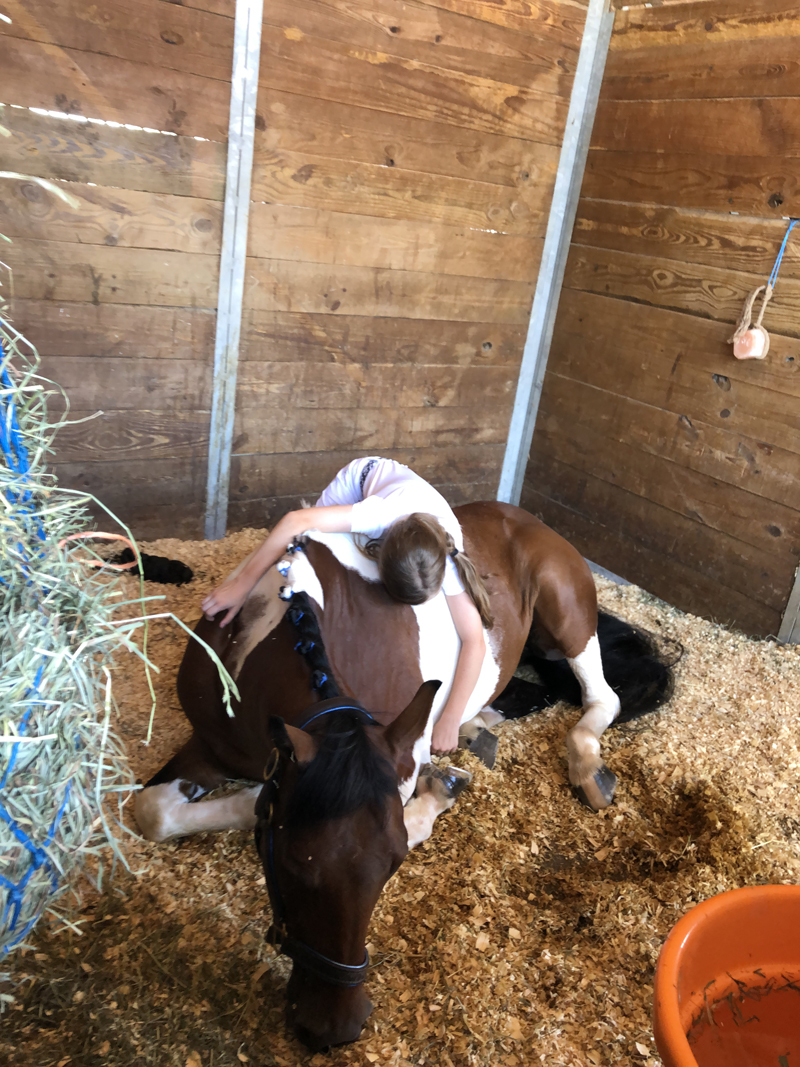 The pair began competing at unrecognized events and moved up to recognized beginner novice in 2018. In 2019 they competed at the USEA American Eventing Championships (Kentucky).
"I was really excited to ride in the Rolex stadium because you always see the people from [the Kentucky CCI5*-L] do that, so it's fun to be in it yourself," said Riley. "We had a rail in stadium, so we got knocked down a lot. He was just kind of tired, and it was the first jump. It was funny because actually after he pulled it he knew it was bad, so he jumped really big the rest of the time."
When the AEC was canceled in 2020, Riley was disappointed, but a friend pointed out she was third on the junior beginner novice leaderboard partway through the season, so Krista suggested she redirect her goal.
"Then the fun began!" said Riley.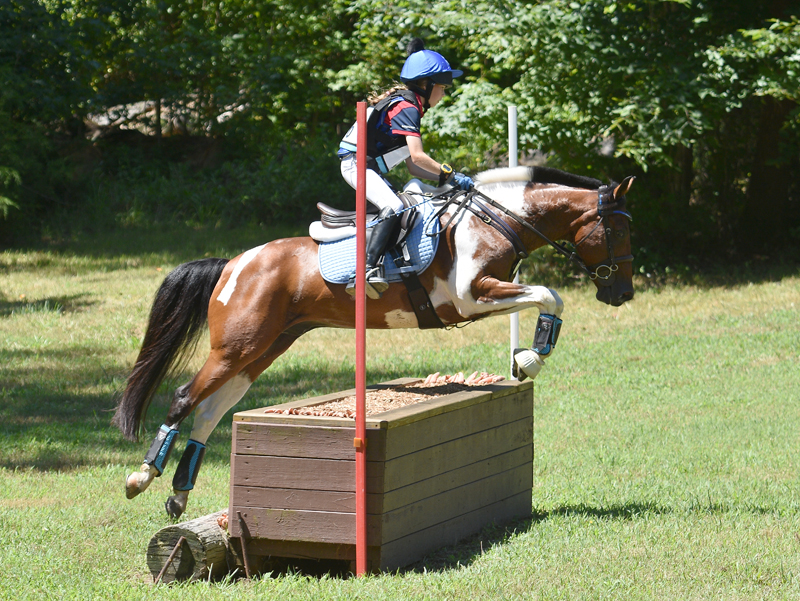 They knew winning would be a longshot, but Riley is competitive, and her consistent results during the summer and fall led to multiple awards, including USEA Pony of the Year, Junior Beginner Novice Rider of the Year, and Santana won Beginner Novice Horse of the Year. The family had Santana DNA tested, and it came back Quarter Horse-Missouri Fox Trotter-Hanoverian.
"She's put in so much work," said Krista. "Santana's a Quarter Pony. He's fit, but his body was not made to do the job that he does, and to be as successful as he's been, it shows his willingness."
Santana lives at home at the family's farm in Thompson Station, Tennessee, and receives cuddles and treats every night before being tucked in. He and Riley also foxhunt alongside Krista with the Mells Foxhounds (Tennessee).
Riley wants to try a novice event with Santana this spring before he's leased out, but she'll stay busy with a new horse named Thor, who's of similar breeding to Santana "but without the Hanoverian." He came from Missouri with no eventing experience and is in training with Erin Pullen to get started.
Riley hopes she can inspire those who are riding horses of "unusual" breeding in eventing: "To anybody who thinks they can't do it because they don't have a fancy horse, you definitely can because I can with my little Quarter Pony and won what I never thought I would," she said.
Again, this article was posted on The Chronicle of The Horse's website and we are sharing it because we really enjoyed the story of Riley and her pony.